Windows XP error with ProfWiz

Printed From: ForensiT
Category: ForensiT Support
Forum Name: Desktop Management
Forum Description: User Profile Manager questions, suggestions, comments and bug reports
URL: https://forum.ForensiT.com/forum_posts.asp?TID=1191
Printed Date: 27 Feb 2021 at 12:13am
Software Version: Web Wiz Forums 12.03 - http://www.webwizforums.com


Topic: Windows XP error with ProfWiz
---
Posted By: mauriciosti
Subject: Windows XP error with ProfWiz
Date Posted: 26 Mar 2015 at 12:59pm
---
Hello everyone
I'm trying using this tool, over XP i'm getting some error.
Over Windows 7 and Windows 8 not.
I'm using Server 2012R2.

See the image below.

Any help ??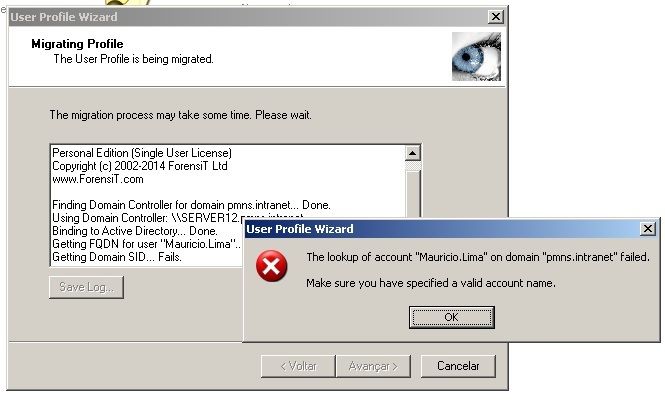 ---
Replies:
---
Posted By: mauriciosti
Date Posted: 31 Mar 2015 at 1:57pm
---
---
Posted By: Support
Date Posted: 01 Apr 2015 at 1:50am
---
We cannot see your image.
---
Posted By: mauriciosti
Date Posted: 07 Apr 2015 at 5:52pm
---
---
Posted By: Support
Date Posted: 08 Apr 2015 at 5:31am
---
It looks like you have some kind of name resolution problem. If you are sure "Mauricio.Lima" is the NetBIOS name name of the user account, try specifying the UPN name instead - something like mauricio.lima@pmns.intranet.

If that doesn't work, try Mauricio.Lima with the NetBIOS domain name - possibly PMNS. (I'm assuming pmns.intranet is not the NetBIOS name of the domain.)
---